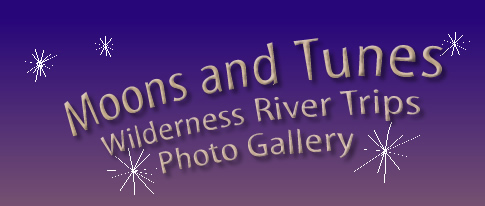 Many of these photos are by Carlye Calvin (professional photographer who does all of the photography, from experiments at 50,000 feet in the atmosphere to photos of kids on Santa's lap, for Boulder, Colorado's National Center for Atmospheric Research.) You can see more of her outstanding work at CarlyeCalvin.com. The other photos are by Bonnie Carol.
| | |
| --- | --- |
| | |
| | |
| | We're considering re-locating to this Desolation Canyon ranch. |



Kokopelli Linda






On Cataract Canyon we tied the boats together and played and sang down the river.


Flower Child Trumpeter
Jordan Miller


A dulcimer circle


"Washboard" Paul


Dulcimer and Trombone? Really?

The PVC Harp


Psaltry player Betty Gibbs has
been on all but one Moons
and tunes!


The horn section
was under 12 years
old this year
On flatwater runs, we bring canoes. When there's whitewater, we bring inflatable kayaks: On hot days,

umbrella floating is popular.
A guide-in-training, twelve-year-old Camile.


Sixty-year-old Bonnie kayaking
From contemplative…

to cool…

with generous amounts of hilarity!

This is the year we dressed to go to the opera.
Glow stick glasses were a big hit


60s party with tie dyes, Janis Joplin,
Grace Slick and Sergeant Pepper

This is the year we had a visitation from the pope as well as the dulcimer playing zebra.
The costume theme this year was "come as your favorite superhero."
©Bonnie Carol 2015 * Bonnie@BonnieCarol.com * www.BonnieCarol.com *15 Sherwood Road * Nederland, Colorado 80466 * 303.258.7763